Happy Wednesday friends!
It's time for another WWW Wednesday! I missed last week, but wouldn't dare miss today's! Hosted by Sam at Taking on a World of Words,  it's one of my favourite weekly blog hops! I love being part of the a great community of readers.
Why not join in with us?
All you have to do is answer THREE questions:
What are you currently reading?
What did you recently finish reading?
What do you think you'll read next?
With NaNoWriMo and other events claiming my life this November, I'm not sure how much reading I'll be getting done, but I'll be doing my best!
---
CURRENTLY READING
The Bone Witch (The Bone Witch # 1) by Rin Chupeco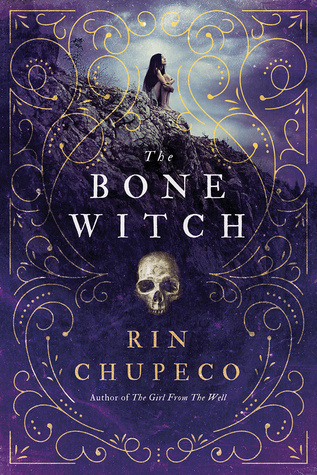 Blurb
When Tea accidentally resurrects her brother from the dead, she learns she is different from the other witches in her family. Her gift for necromancy means that she's a bone witch, a title that makes her feared and ostracized by her community. But Tea finds solace and guidance with an older, wiser bone witch, who takes Tea and her brother to another land for training.
In her new home, Tea puts all her energy into becoming an asha — one who can wield elemental magic. But dark forces are approaching quickly, and in the face of danger, Tea will have to overcome her obstacles…and make a powerful choice.
This is one of the outstanding ARCs I have from NetGalley. I realize I actually have a few, so I'll be having to do a bit of e-reading this month! I haven't gotten far into it yet, but I'm definitely interested in seeing where this one goes.
RECENTLY FINISHED READING
Siege and Storm (The Grisha Trilogy #2) & Ruin and Rising (The Grisha Trilogy #3) by Leigh Bardugo

I won't post the blurbs because they contain spoilers for the series. If you're interested, here's a link to the Goodreads page of Shadow and Bone (Grisha Trilogy #1)
It's been a long time since I actually binge-read a series. Honestly, I can't remember the last time I did! But I was glad I did for this series. Why?
Well, the second book, Siege and Storm wasn't exactly my cup of tea. There was too much preoccupation with the love triangle – er, square (I'm not even sure) — and nothing really happened until the end.
On the other hand, Ruin and Rising, proved to be a stellar conclusion to a lacklustre series, proving that Bardguo had more up her sleeve. I was impressed by the level of maturity and the thematic resonance of the final chapter. Definitely makes me excited to read more of her novels (i.e. Six of Crows & Crooked Kingdom!).
Harry Potter and the Order of the Phoenix (Harry Potter #5) by JK Rowling

Blurb:
Harry Potter is due to start his fifth year at Hogwarts School of Witchcraft and Wizardry. His best friends Ron and Hermione have been very secretive all summer and he is desperate to get back to school and find out what has been going on. However, what Harry discovers is far more devastating than he could ever have expected…
Part of my annual reread of my favourite fantasy series! There's so much to love about this novel, and yet it's one of my least favourite in the series. I've realized why more this time than ever before because I've approached it with a more critical eye. Still, a very enjoyable read 🙂
READING NEXT

Here's a look at my November TBR from a post on my Instagram. Not sure which I'll turn to next…
Are there any you've read or are looking forward to read?
---
Okay, that's it from me! Share your WWW links in the comments or let me know how you've been keeping occupied with books!
May inspiration flow like ink upon your quill,
Faith