Happy Wednesday friends!
Didn't think I'd have this post for today, but I have to share my reading habits with you because of one word: SCHWAB! 😍

Thanks to the lovely Sam at Taking on a World of Words for hosting this amazing blog hop every week! If you aren't following her already, you're missing out 🙂
Want to join in? All you have to do is answer these questions:
What are you currently reading?
What did you recently finish reading?
What do you think you'll read next?
---
CURRENTLY READING
Dreadnought (Nemesis #1) by April Daniels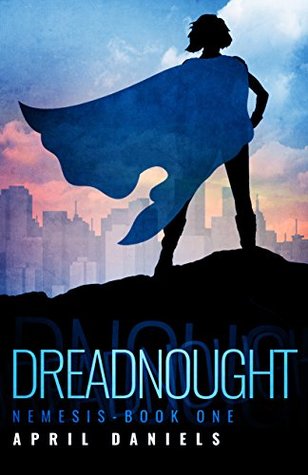 Blurb:
Danny Tozer has a problem: she just inherited the powers of Dreadnought, the world's greatest superhero. Until Dreadnought fell out of the sky and died right in front of her, Danny was trying to keep people from finding out she's transgender. But before he expired, Dreadnought passed his mantle to her, and those secondhand superpowers transformed Danny's body into what she's always thought it should be. Now there's no hiding that she's a girl.
It should be the happiest time of her life, but Danny's first weeks finally living in a body that fits her are more difficult and complicated than she could have imagined. Between her father's dangerous obsession with "curing" her girlhood, her best friend suddenly acting like he's entitled to date her, and her fellow superheroes arguing over her place in their ranks, Danny feels like she's in over her head.
She doesn't have time to adjust. Dreadnought's murderer—a cyborg named Utopia—still haunts the streets of New Port City, threatening destruction. If Danny can't sort through the confusion of coming out, master her powers, and stop Utopia in time, humanity faces extinction.
An ebook received through NetGalley, this book was just released in January and I'm actually rather enjoying it. The unique perspective has drawn me in and there's an eclectic cast of characters to round it up. The story seems to be working with extremes but I do appreciate that the author is trying to explore the force of transphobia (and homophobia to some extent). The protagonist is highly likeable and the writing is quirky and and suits the first person POV.
Big Magic: Creative Living Beyond Fear by Elizabeth Gilbert
Blurb:
Readers of all ages and walks of life have drawn inspiration and empowerment from Elizabeth Gilbert's books for years. Now this beloved author digs deep into her own generative process to share her wisdom and unique perspective about creativity. With profound empathy and radiant generosity, she offers potent insights into the mysterious nature of inspiration. She asks us to embrace our curiosity and let go of needless suffering. She shows us how to tackle what we most love, and how to face down what we most fear. She discusses the attitudes, approaches, and habits we need in order to live our most creative lives. Balancing between soulful spirituality and cheerful pragmatism, Gilbert encourages us to uncover the "strange jewels" that are hidden within each of us. Whether we are looking to write a book, make art, find new ways to address challenges in our work, embark on a dream long deferred, or simply infuse our everyday lives with more mindfulness and passion, Big Magic cracks open a world of wonder and joy.
So far, this is proving to be a very inspiring and motivating read! I find it especially poignant these days, and maybe just the kick in the creative butt that I need 😅
FINISHED READING
A Gathering of Shadows & A Conjuring of Light (Shades of Magic #2 & 3)by V.E. Schwab
Blurb (from A Darker Shade of Magic, the first book)
Kell is one of the last travelers–magicians with a rare, coveted ability to travel between parallel universes connected by one magical city.
There's Grey London, dirty and boring, without any magic, and with one mad King–George III. Red London, where life and magic are revered–and where Kell was raised alongside Rhy Maresh, the roguish heir to a flourishing empire. White London–a place where people fight to control magic and the magic fights back, draining the city to its very bones. And once upon a time, there was Black London. But no one speaks of that now.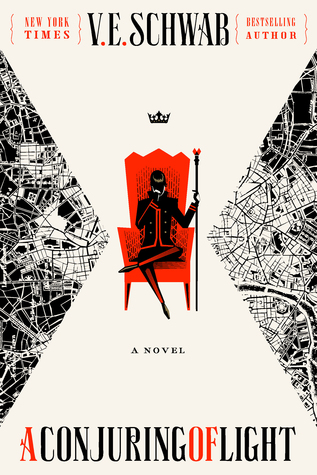 Officially, Kell is the Red traveler, ambassador of the Maresh empire, carrying the monthly correspondences between the royals of each London. Unofficially, Kell is a smuggler, servicing people willing to pay for even the smallest glimpses of a world they'll never see. It's a defiant hobby with dangerous consequences, which Kell is now seeing firsthand.
Fleeing into Grey London, Kell runs into Delilah Bard, a cut-purse with lofty aspirations. She robs him, saves him from a deadly enemy, and finally forces Kell to spirit her to another world for a proper adventure.
Now perilous magic is afoot, and treachery lurks at every turn. To save all of the worlds, they'll first need to stay alive.
What an absolutely brilliant series this has been! Whether it's the gripping prose or the engaging world building or the memorable characters, Schwab has brought such magic into the world with this series. I haven't felt this satisfied with a conclusion in a long time and it's bittersweet to know that the adventure is over. Of course, that's where the magic of the re-read comes in.
I do highly recommend this series ❤
READING NEXT

The days are winding down, but I'm still hoping to get through these ones!
Daughter of the Pirate King by Tricia Levenseller
Blurb:
If you want something done right….
When the ruthless Pirate King learns of a legendary treasure map hidden on an enemy ship, his daughter, Alosa, knows that there's only one pirate for the job—herself. Leaving behind her beloved ship and crew, Alosa deliberately facilitates her own kidnapping to ensure her passage on the enemy ship. After all, who's going to suspect a seventeen-year-old girl locked in a cell?
Then she meets the (surprisingly perceptive and unfairly attractive) first mate, Riden, who is charged with finding out all her secrets. Now it's down to a battle of wits and will… Can Alosa find the map and escape before Riden figures out her plan?
Debut author Tricia Levenseller blends action, adventure, romance, and a little bit of magic into a thrilling YA pirate tale.
Wolves of the Calla (Dark Tower #5) by Stephen King
Blurb:
Roland Deschain and his ka-tet are bearing southeast through the forests of Mid-World on their quest for the Dark Tower. Their path takes them to the outskirts of Calla Bryn Sturgis. But beyond the tranquil farm town, the ground rises to the hulking darkness of Thunderclap, the source of a terrible affliction that is stealing the town's soul. The wolves of Thunderclap and their unspeakable depredation are coming. To resist them is to risk all, but these are odds the gunslingers are used to. Their guns, however, will not be enough….
Ashael Rising (Vessel of KalaDene #1) by Shona Kinsella
Blurb
Ashael is a hunter-gatherer woman, apprenticed to Bhearra, the healer and spiritual leader of their tribe.
The Zanthar are invaders from another world who extend their own lives by stealing the life-force of everything around them. They were last seen on KalaDene 200 years ago. They have returned, looking for The Vessel, a being prophesied to hold the life-force of the land.
Iwan is a slave to the Zanthar, descendant of the folk that were taken as slaves the last time the Zanthar visited this world. He is sent out as a spy, while his mother is held hostage to ensure his compliance.
When Iwan and Ashael meet and she invites him to stay in Oak Cam, neither of them realise that she is the one the Zanthar seek. The fate of KalaDene and all of its people rests on Ashael's shoulders.
---
Share your WWW link in the comment or let me know what your reading habits have been like lately. Let's spread the bookish love across the sphere 😊
May inspiration flow like ink upon your quill,
Faith