Hello friends,
As mentioned, here's the first of many reviews to come over the next few days!
Thank you to NetGalley and Adrenalin Books for giving me an ARC in exchange for an honest review!
---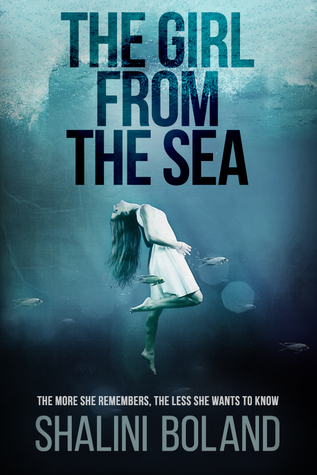 Blurb:
A chilling suspense story of wounded hearts and dark secrets.
Washed up on the beach, she can't remember who she is. She can't even remember her name. Turns out, she has an idyllic life – friends and family eager to fill in the blanks.
But why are they lying to her? What don't they want her to remember?
When you don't even know who you are, how do you know who to trust?
The Girl from the Sea is easily my favourite thriller read this year. Better than Girl on the Train and par with Gone Girl, the story was well paced and the narrative unfolded to a rather satisfying – if not surprising – ending.
The plot revolves around Mia who wakes up one day on the beach with no recollection of how she got there and no memory of the life she led before that moment. It is a perfect opportunity to create an unreliable narrator and Shalini Boland jumps on it without wasting it, slowly revealing the full story and laying the groundwork for a twisty ending.
It's difficult to say much else without spoiling the plot. Mia's journey to remembrance introduces us to a number of secondary characters and perhaps here is my only real niggle with the story. I found most of the characters to me unlikable and a little flat for my taste. It is a minor problem, though, as the plot was strong enough to keep me hooked.
Otherwise, Girl from the Sea is an excellent debut from an author I will be sure to be keeping an eye on. If you enjoy twisting plots in the vein of Girl on the Train and Gone Girl, this is definitely one for you to check out!
---
May inspiration flow like ink upon your quill,
Faith