Happy Wednesday friends!
Hosted by Sam at Taking on a World of Words, this is one of my favourite weekly blog hops! I love being part of the a great community of readers.
All you have to do is answer three questions!
What are you currently reading?
What did you recently finish reading?
What do you think you'll read next?
It's been a busy last two weeks for me, finishing up edits on Eléonore and writing through a new NaNoWriMo novel. It's been fun, but on the opposite side, reading has taken a bit of a down turn…
---
CURRENTLY READING
Throne of the Crescent Moon (The Crescent Moon Kingdoms #1) by Saladin Ahmed
Blurb:
From Saladin Ahmed, finalist for the Nebula and Campbell Awards, comes one of the year's most acclaimed debuts: a fantasy adventure with all the magic of The Arabian Nights.
The Crescent Moon Kingdoms, home to djenn and ghuls, holy warriors and heretics, are at the boiling point of a power struggle between the iron-fisted Khalif and the mysterious master thief known as the Falcon Prince. In the midst of this brewing rebellion a series of brutal supernatural murders strikes at the heart of the Kingdoms. But these killings are only the earliest signs of a plot for the Throne of the Crescent Moon that threatens to turn the great city of Dhamsawaat, and the world itself, into a blood-soaked ruin.
I am rather enjoying this one! There's something magical about it with interesting characters and great worldbuilding. It's the perfect inspiration for my NaNoWriMo novel, The Desert Knight.  I'm aiming to be done it tonight–I only have about fifty pages to go.
The Tea Planter's Wife by Dinah Jefferies
Blurb:
Nineteen-year-old Gwendolyn Hooper is newly married to a rich and charming widower, eager to join him on his tea plantation, determined to be the perfect wife and mother. But life in Ceylon is not what Gwen expected. The plantation workers are resentful, the neighbours treacherous. And there are clues to the past – a dusty trunk of dresses, an overgrown gravestone in the grounds – that her husband refuses to discuss. Just as Gwen finds her feet, disaster strikes. She faces a terrible choice, hiding the truth from almost everyone, but a secret this big can't stay buried forever . . .
I don't normally read two books at once, but I'm reading two books at once. This is one that I got off NetGalley and still haven't read. It expires soon, so I'm rushing to get it done. So far it's a diverting historical fiction. My biggest complaint is that it's been rather predictable so far…
RECENTLY READ
The Bone Witch (The Bone Witch # 1) by Rin Chupeco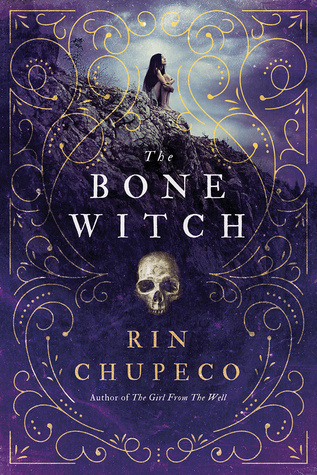 Blurb:
When Tea accidentally resurrects her brother from the dead, she learns she is different from the other witches in her family. Her gift for necromancy means that she's a bone witch, a title that makes her feared and ostracized by her community. But Tea finds solace and guidance with an older, wiser bone witch, who takes Tea and her brother to another land for training.
In her new home, Tea puts all her energy into becoming an asha — one who can wield elemental magic. But dark forces are approaching quickly, and in the face of danger, Tea will have to overcome her obstacles…and make a powerful choice.
I rather loved this novel. I was lucky to get an ARC from NetGalley. It releases in March 2017, and I am excited for more people to discover it. I will wait to post my review for this one closer to the release date, but I'll say for now, keep your eyes open for this one, friends 🙂
My Grandmother Sends Her Regards and Apologizes by Fredrik Backman
 Blurb:
Elsa is seven years old and different. Her grandmother is seventy-seven years old and crazy, standing-on-the-balcony-firing-paintball-guns-at-men-who-want-to-talk-about-Jesus-crazy. She is also Elsa's best, and only, friend. At night Elsa takes refuge in her grandmother's stories, in the Land of Almost-Awake and the Kingdom of Miamas where everybody is different and nobody needs to be normal.
When Elsa's grandmother dies and leaves behind a series of letters apologizing to people she has wronged, Elsa's greatest adventure begins. Her grandmother's letters lead her to an apartment building full of drunks, monsters, attack dogs, and totally ordinary old crones, but also to the truth about fairytales and kingdoms and a grandmother like no other.
This book was too wonderful for words. Quirky and unique. A fable that balances grief and humour. A touching human story about fighting our fears and extending compassion. This has become one of my favourite reads this year and I highly recommend it! But be warned, it will break your heart a million ways!
READING NEXT
Fay Storms (The Storms Trilogy #1) by A.A. Frascati

Blurb:
Thief by trade. Half-breed by blood. Fifer is part-Fay and all pluck.
When her partner goes missing and she is abducted by demanding clients, Fifer finds herself trapped in a plot she wants no part of. By fulfilling her contract with the Aestus, the brotherhood of powerful and secretive warriors, she will discover that she's not what she thinks.
The Aestus need her—even though Arkadius, Master in training, can't see it. In order to stop the Aestus clans from warring among themselves, Arkadius must rely on Fifer to steal a powerful magical artifact. But how can a woman save the mighty Aestus? When he discovers the answer, the fate of the Empire will rest on the edge of his sword.
I was offered a copy of this novel by the author and I'm excited to get to it once I finish the Tea Planter's Wife. I always love discovering new authors and new fantasies 🙂
The Hero and the Crown (Damar #2) by Robin McKinley
Blurb:
Aerin could not remember a time when she had not known the story; she had grown up knowing it.
It was the story of her mother, the witchwoman who enspelled the king into marrying her, to get an heir that would rule Damar; and it was told that she turned her face to the wall and died of despair when she found she had borne a daughter instead of a son.
Aerin was that daughter.
But there was more of the story yet to be told; Aerin's destiny was greater than even she had dreamed–for she was to be the true hero who would wield the power of the Blue Sword…
First, I can't believe that this is going to be my first McKinley read! She's been high on my TBR for years! Second, I know this is the second book, but it's a prequel to The Blue Sword as I understand it, and my sister read it first too. If you read the series, which book did you start with?
---
Okay, that's it for this week's WWW Wednesday! Leave your links in the comments or let me know what you've been up to reading wise 🙂
May inspiration flow like ink upon your quill,
Faith