Happy Wednesday Friends|
And happy books to you all!
The perfect opportunity to share the love of reading, WWW Wednesday is hosted by Sam at Taking on a World of Words.
Care to join in sharing your weekly reads, all you have to do is answer these 3 questions:
What are you currently reading?
What did you recently finish reading?
What do you think you'll read next?
I missed last week's post, so today's is a little stuffed ;P
Here we go 🙂
---
WHAT I AM CURRENTLY READING
Written in Red (The Others #1) by Anne Bishop
Blurb:
As a cassandra sangue, or blood prophet, Meg Corbyn can see the future when her skin is cut—a gift that feels more like a curse. Meg's Controller keeps her enslaved so he can have full access to her visions. But when she escapes, the only safe place Meg can hide is at the Lakeside Courtyard—a business district operated by the Others.
Shape-shifter Simon Wolfgard is reluctant to hire the stranger who inquires about the Human Liaison job. First, he senses she's keeping a secret, and second, she doesn't smell like human prey. Yet a stronger instinct propels him to give Meg the job. And when he learns the truth about Meg and that she's wanted by the government, he'll have to decide if she's worth the fight between humans and the Others that will surely follow.
My friends, this book. It has completely ensnared me. I have never read Anne Bishop, but now I am sold and convinced that I must read all her books 🙂 Really, I am so invested in this book. Why? I can't even say. It's just wonderfully fun and the worldbuilding is impeccable, and the characters are endearing. Stellar! Can't wait to return to the Lakeside Courtyard tonight 🙂
WHAT I RECENTLY FINISHED READING
Mad Ship (Liveship Trilogy #2) by Robin Hobb
BLURB:
Robin Hobb returns to the sea with Mad Ship, the second book in a projected trilogy set in the same world as her famed Farseer series. Many unresolved questions from Ship of Magic are answered in this tale of sea serpents and dragons; living ships made of wizardwood; the Bingtown Trader families who sail the ships; and their disfigured cousins, the Rain Wild Traders, who build them.
It took me a while to get into this book. I had a hard time acclimating to new character perspectives and found it difficult to wade through some of my least favourite character povs at the start, but past the halfway mark the rest of it flew and I love the direction the story has taken and can't wait for the last book in the trilogy. Robin Hobb is a genius of worldbuilding and character development 🙂
Justice Hall (Mary Russell #6) by Laurie R. King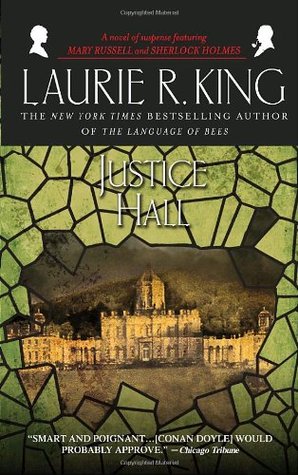 Blurb:
Only hours after Holmes and Russell return from solving one riddle on the moor, another knocks on their front door…literally.
It's a mystery that begins during the Great War, when Gabriel Hughenfort died amidst scandalous rumors that have haunted the family ever since. But it's not until Holmes and Russell arrive at Justice Hall, a home of unearthly perfection set in a garden modeled on Paradise, that they fully understand the irony echoed in the family motto, Justicia fortitudo mea est: "Righteousness is my strength."
A trail of ominous clues leads Holmes and Russell from an English hamlet to fashionable Paris to the wild prairie of the New World. But as the moment of reckoning approaches, will justice be done…or have they been lured straight into an elusive killer's perfectly baited trap?
After a few low notes in the series, this book renewed my faith and love of Mary Russell! She was far more prominent, proving again why I fell in love with her in the first place. The characters in general were far more likable and I bonded with many more of the secondary characters than others in the past. The premise too was more gripping and intriguing, and I felt invested in the outcome! Brilliant.
Watchmen by Alan Moore
Blurb:
This Hugo Award-winning graphic novel chronicles the fall from grace of a group of super-heroes plagued by all-too-human failings. Along the way, the concept of the super-hero is dissected as the heroes are stalked by an unknown assassin.
One of my best reads of 2016. Seriously. A thought-provoking, thrilling, tragic book. A real piece of genius that deserves to be read if only to inspire us to try harder to be better. Highly recommend!
AND…
Shadow and Bone (The Grisha #1) by Leigh Bardugo
Blurb:
Surrounded by enemies, the once-great nation of Ravka has been torn in two by the Shadow Fold, a swath of near impenetrable darkness crawling with monsters who feast on human flesh. Now its fate may rest on the shoulders of one lonely refugee.
Alina Starkov has never been good at anything. But when her regiment is attacked on the Fold and her best friend is brutally injured, Alina reveals a dormant power that saves his life—a power that could be the key to setting her war-ravaged country free. Wrenched from everything she knows, Alina is whisked away to the royal court to be trained as a member of the Grisha, the magical elite led by the mysterious Darkling.
Yet nothing in this lavish world is what it seems. With darkness looming and an entire kingdom depending on her untamed power, Alina will have to confront the secrets of the Grisha . . . and the secrets of her heart.
I wanted to enjoy this book more than I did. I thought that Ravka was well conceived, the Russian undertones definitely a breath of fresh air, but I had a few quibbles with some characters…. The last third fixed a lot of that,  but still wished for a little bit more in the middle. I'll still be trying the rest of the series.
WHAT I KNOW I'LL BE READING NEXT
Initiate by Laura L. Fox
Blurb:
The only home Riga Garrison has ever known is the Tunnel, a subterranean research facility buried deep beneath Antarctica's ice and snow.
Yet, while a safe haven for the last outpost of humanity governed by the Initiate, it is also home to a secret so dark that they will risk anything to protect it.
Surrounded by deceit and faced with exile to a frozen wasteland, Riga must defy not only the Initiate's top biologists and loyalists but also her own mother, in an attempt to unearth the truth.
I was offered an ARC copy of the ebook by Oftomes Publishing so I'll be turning to this after Written in Red. I hear a lot of good things so I'm really excited to get started on it!
The Hundred Thousand Kingdoms (The Inheritance Trilogy #1) by N.K. Jemisen
Blurb:
Yeine Darr is an outcast from the barbarian north. But when her mother dies under mysterious circumstances, she is summoned to the majestic city of Sky. There, to her shock, Yeine is named an heiress to the king. But the throne of the Hundred Thousand Kingdoms is not easily won, and Yeine is thrust into a vicious power struggle.
One of the four first in series I'm reading this September, this one's been on my TBR for a looooong time. Cannot wait to finally get to it 🙂
Sabriel (Old Kingdom Series #1) by Garth Nix
Blurb:
Sabriel is the daughter of the Mage Abhorsen. Ever since she was a tiny child, she has lived outside the Wall of the Old Kingdom–far away from the uncontrolled power of Free Magic, and away from the Dead who won't stay dead.
But now, her father is missing and Sabriel is called upon to cross into the world to find him, Leaving the safety of the school she has known as home, Sabriel embarks upon a quest fraught with supernatural dangers, with companions she is unsure of–for nothing is as it seems within the boundary of the Old Kingdom. There, she confronts an evil that threatens much more than her life, and comes face to face with her hidden destiny.
The last of my first in series must reads for September and the one that's been on my TBR the longest. It's also the one I'm most excited for 🙂
---
Phew! That was long, huh? Care to share your own reading habits. Leave a comment with your WWW Wednesday link or let me know what you've been reading, are reading or will be reading!
May inspiration flow like ink upon your quill,
Faith