Happy Wednesday Everyone!
Welcome to another week's worth of bookish endeavours brought to you by the WWW Wednesday meme hosted by Sam at Taking on a World of Words.
Care to join in sharing your weekly reads, all you have to do is answer these 3 questions:
What are you currently reading?
What did you recently finish reading?
What do you think you'll read next?
Here's a look into my reading habits.
Note: All covers/blurbs are from Goodreads.
---
WHAT I AM CURRENTLY READING
The Mad Ship (Liveship Traders #2) by Robin Hobb
BLURB:
Robin Hobb returns to the sea with Mad Ship, the second book in a projected trilogy set in the same world as her famed Farseer series. Many unresolved questions from Ship of Magic are answered in this tale of sea serpents and dragons; living ships made of wizardwood; the Bingtown Trader families who sail the ships; and their disfigured cousins, the Rain Wild Traders, who build them.
Just started this one last night. Barely, though, because I was gone most of the night. Still, a good start and I look forward to enjoying the whopping 850 page read ahead of me 😉
WHAT I RECENTLY FINISHED READING
State of Wonder by Ann Patchett
Blurb:
In a narrative replete with poison arrows, devouring snakes, scientific miracles, and spiritual transformations, State of Wonder presents a world of stunning surprise and danger, rich in emotional resonance and moral complexity.
As Dr. Marina Singh embarks upon an uncertain odyssey into the insect-infested Amazon, she will be forced to surrender herself to the lush but forbidding world that awaits within the jungle. Charged with finding her former mentor Dr. Annick Swenson, a researcher who has disappeared while working on a valuable new drug, she will have to confront her own memories of tragedy and sacrifice as she journeys into the unforgiving heart of darkness. Stirring and luminous, State of Wonder is a world unto itself, where unlikely beauty stands beside unimaginable loss beneath the rain forest's jeweled canopy.
I don't think I've ever read a book quite like this. I've heard great things about Ann Patchett in the past and I having read this book, I agree that her writing really pulls you into the story, creates a really mesmerizing setting. Marina Singh was an interesting character to follow and I was invested in her story. The last chapter, though, through me for a bit of a loop and while I think State of Wonder is an enchanting and, at times, tragic read, I closed the last page, feeling a little unsatisfied with the conclusion.
Speaker for the Dead (The Ender Quintet #3): by Orson Scott Card
I'm skipping the blurb on this one because I don't want to spoil the original story for anyone.
I read Ender's Game well over six years ago and it blew me away. The whole story was so brilliantly conceived and I remember being left with a feeling of awe in the days that followed my reading of it. So I bought Speaker for the Dead a few days later, and it has sat on my shelf ever since. Why? Even now, I'm not sure. Perhaps because I wasn't sure what to expect after a stunning first book. But something inspired me this last week to give it a try.
People kept mentioning how it's better than Ender's Game, but I was wary to go into it with that thought. But you know what, they're right. This is an epic novel filled with philosophical brilliance and moments of real epiphany. A special kind of read that I highly recommend.
WHAT I KNOW I'LL BE READING NEXT

Justice Hall (Mary Russell & Sherlock Holmes #6): by Laurie R. King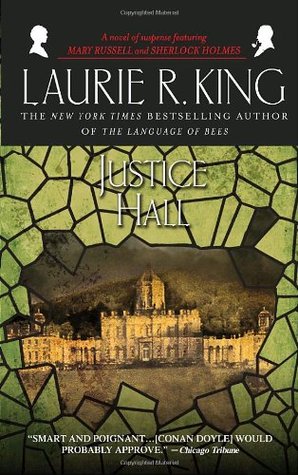 Blurb:
Only hours after Holmes and Russell return from solving one riddle on the moor, another knocks on their front door…literally.
It's a mystery that begins during the Great War, when Gabriel Hughenfort died amidst scandalous rumors that have haunted the family ever since. But it's not until Holmes and Russell arrive at Justice Hall, a home of unearthly perfection set in a garden modeled on Paradise, that they fully understand the irony echoed in the family motto, Justicia fortitudo mea est: "Righteousness is my strength."
A trail of ominous clues leads Holmes and Russell from an English hamlet to fashionable Paris to the wild prairie of the New World. But as the moment of reckoning approaches, will justice be done…or have they been lured straight into an elusive killer's perfectly baited trap?
My only leftover from last week. I should get to it before next Wednesday, though Mad Ship is a pretty big read…
Watchmen by Alan Moore:
Blurb:
This Hugo Award-winning graphic novel chronicles the fall from grace of a group of super-heroes plagued by all-too-human failings. Along the way, the concept of the super-hero is dissected as the heroes are stalked by an unknown assassin.
One of the most influential graphic novels of all time and a perennial best-seller, Watchmen has been studied on college campuses across the nation and is considered a gateway title, leading readers to other graphic novels such as V for Vendetta, Batman: The Dark Knight Returns and The Sandman series.
This graphic novel has been on a shelf for a while, unfortunately gathering dust, but I'm finally ready to  discover the reason for its critical acclaim. The Sandman series and V for Vendetta were stunning — I highly recommend both. Seeing them listed above makes me very hopeful for a thrilling read!
---
That's it for me for today.  But take note, I'm now on Instagram! If you want to discover more of my reading habits and writing inspiration, come follow me there 🙂
And please share your WWW Wednesday links in the comments or just let me know what your bookish delights have been / are / will be! Happy Reading friends 🙂
May inspiration flow like ink upon your quill,
Faith