Happy Wednesday friends 🙂
As ever, today is a chance to share the love of reading and discover new books across the blogosphere thanks to WWW Wednesday, hosted by Sam at Taking on a World of Words.
Care to join in sharing your weekly reads, all you have to do is answer these 3 questions:
What are you currently reading?
What did you recently finish reading?
What do you think you'll read next?
It's actually been a hard last few days to fit in reading, what with visiting Vieux-Québec on Monday and then yesterday going to see Star Trek Beyond (not my favourite movie I'll say that much). But I still managed to get through all my to read nexts from last week, so that's a plus!
Note: All covers/blurbs are from Goodreads.
---
WHAT I AM CURRENTLY READING
State of Wonder by Ann Patchett
Blurb:
In a narrative replete with poison arrows, devouring snakes, scientific miracles, and spiritual transformations, State of Wonder presents a world of stunning surprise and danger, rich in emotional resonance and moral complexity.
As Dr. Marina Singh embarks upon an uncertain odyssey into the insect-infested Amazon, she will be forced to surrender herself to the lush but forbidding world that awaits within the jungle. Charged with finding her former mentor Dr. Annick Swenson, a researcher who has disappeared while working on a valuable new drug, she will have to confront her own memories of tragedy and sacrifice as she journeys into the unforgiving heart of darkness. Stirring and luminous, State of Wonder is a world unto itself, where unlikely beauty stands beside unimaginable loss beneath the rain forest's jeweled canopy.
This is one of those books that's been sitting on my shelves for 5+ years and I thought it was about time I give it a shot. It's not a typical read for me, but I'm in the mood to be adventurous, so away we go 🙂
WHAT I RECENTLY FINISHED READING
Witch Infernal (Infernal Hunt #3) by Holly Evans
Blurb:
Evelyn Hawke wasn't made for the quiet life. She's bored.
Luckily for her, things start going wrong, and she's expected to fix everyone else's problems. A trio of celestials task Evie and her friends with the job of tracking down the witch who opened the hellmouth and putting an end to her. Little do they know that the witch has big plans and a far-reaching influence.
Oh! I had missed Evie! I bought the third installment in the brilliant Infernal Hunt series the day it was released and devoured it as I had the previous two. Holly does such an amazing job of bringing Prague to life as Evie leads us through the hectic life of a hunter. Plus the supporting cast of characters are such fun to be around. What's most impressive is how the books have matured with Evie. There's so much character development blended in with action sequences. A delightful urban fantasy series you should definitely check out!
The Birth of Venus by Sarah Dunant
Blurb:
Birth of Venus, draws readers into a turbulent 15th-century Florence, a time when the lavish city, steeped in years of Medici family luxury, is suddenly besieged by plague, threat of invasion, and the righteous wrath of a fundamentalist monk. Dunant masterfully blends fact and fiction, seamlessly interweaving Florentine history with the coming-of-age story of a spirited 14-year-old girl. As Florence struggles in Savonarola's grip, a serial killer stalks the streets, the French invaders creep closer, and young Alessandra Cecchi must surrender her "childish" dreams and navigate her way into womanhood.
I was looking forward to a historical fiction and I had heard good things about this book but, while I did enjoy the beginning well enough, I felt that the story didn't have as much direction as I had hoped it would. Maybe it was the mindset I was in reading it, but I couldn't get into the story at all, though the writing was beautiful. I just wish that some elements had been better developed. I did enjoy parts of it, though, and still intend to read more of Dunant's works in the future.
On a more positive note, this marked by 80th read this year 😄
A Swiftly Twisting Planet (Time Quintet #3) by Madeleine L'Engle
Blurb (edited to avoid spoilers):
He and Gaudior must travel into the past on the winds of time to try to find a Might-Have-Been – a moment in the past when the entire course of events leading to the present can be changed, and the future of Earth – this small, swiftly tilting planet – saved.
So, I finished this book last night and I am still in awe of how powerful Madeleine L'Engle's stories are. This third installment is just as magical as the first two, but there is a new level of maturity in it too that the first two did not have, the story developing and growing with the characters. It made for a rather profound and thoughtful read. I can't believe it took me so long to discover these childhood classics, but I am inspired ❤
WHAT I KNOW I'LL BE READING NEXT

A lot of sequels 😉
Speaker for the Dead (The Ender Quintet #3): by Orson Scott Card
I'm skipping the blurb on this one because I don't want to spoil the original story for anyone.
While this is considered to be the third in the series, it's the second published so I'm going to read it as such. I read Ender's Game a long, long, long time ago and it really affected me. Deeply. Such a profound novel. I don't tend to read Sci-Fi, but wow! That book just hooked me in and wouldn't let go. I've had the sequel on my shelf for a while, but haven't been in the mood for it until now. I hear wonderful things.
In the meantime, I highly recommend you discover Ender's Game for yourself because it's brilliant!
The Mad Ship (Liveship Traders #2) by Robin Hobb
BLURB:
Robin Hobb returns to the sea with Mad Ship, the second book in a projected trilogy set in the same world as her famed Farseer series. Many unresolved questions from Ship of Magic are answered in this tale of sea serpents and dragons; living ships made of wizardwood; the Bingtown Trader families who sail the ships; and their disfigured cousins, the Rain Wild Traders, who build them.
I was supposed to read this a few weeks ago, but by the time I got to it, I found I wasn't ready, so I placed it aside. Now, I'm going to try again and hope for better motivation 🙂
AND
Justice Hall (Mary Russell and Sherlock Holmes #6) by Laurie R. King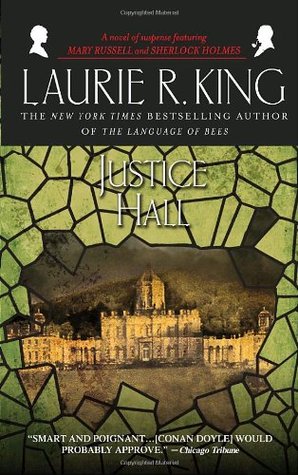 Blurb:
Only hours after Holmes and Russell return from solving one riddle on the moor, another knocks on their front door…literally.
It's a mystery that begins during the Great War, when Gabriel Hughenfort died amidst scandalous rumors that have haunted the family ever since. But it's not until Holmes and Russell arrive at Justice Hall, a home of unearthly perfection set in a garden modeled on Paradise, that they fully understand the irony echoed in the family motto, Justicia fortitudo mea est: "Righteousness is my strength."
A trail of ominous clues leads Holmes and Russell from an English hamlet to fashionable Paris to the wild prairie of the New World. But as the moment of reckoning approaches, will justice be done…or have they been lured straight into an elusive killer's perfectly baited trap?
It's been a while since I last read one of these so I'm looking forward to it. Mary is such a wonderful protagonist and the last story set her too far in the background for my liking. Here's hoping she shines more in this one!
---
Well, that's it for me friends! Please share your own reading adventures or WWW link in the comments. Let's keep the love of books ever growing!
May inspiration flow like ink upon your quill,
Faith