A most happy Wednesday to you, my friends!
Today sees the start of a massive heat wave hitting Quebec with temperatures reaching 43ºC (that's 109ºF ) with the humidity! Yikes! Thank goodness for the A/C!
WWW Wednesday is a weekly meme hosted by the brilliant Sam at Taking on a World of Words.  She is amazing for doing it and you should definitely take a tour of her blog and discover how wonderful she is for yourself!
And why don't you also join is as well! It's easy as 1 – 2 – 3. No really, it is. All you have to do is answer these 3 questions:
What are you currently reading?
What did you recently finish reading?
What do you think you'll read next?
It was another great week of reading for me even with 2 wakes & a wedding! Find out more…
---
WHAT I AM CURRENTLY READING
The Silkworm (Cormoran Strike #2) by Robert Galbraith
BLURB:
When novelist Owen Quine goes missing, his wife calls in private detective Cormoran Strike. At first, Mrs. Quine just thinks her husband has gone off by himself for a few days–as he has done before–and she wants Strike to find him and bring him home.
But as Strike investigates, it becomes clear that there is more to Quine's disappearance than his wife realizes. The novelist has just completed a manuscript featuring poisonous pen-portraits of almost everyone he knows. If the novel were to be published, it would ruin lives–meaning that there are a lot of people who might want him silenced.
When Quine is found brutally murdered under bizarre circumstances, it becomes a race against time to understand the motivation of a ruthless killer, a killer unlike any Strike has encountered before…
I read one chapter last night after finishing Into Aether (see below section), just to be able to say that I AM reading something 😉 Can't say much about it as of yet. But here's to hoping it is an improvement on the first (people keep telling me it is)!
WHAT I RECENTLY FINISHED READING
Haven (Chronicles of Warshard #1) by Katherine Bogle
BLURB:
Princess Haven was never meant to be Queen.
Her immortality has saved her time and time again, but when the last of her royal family dies at her feet, she is next in line to rule a nation on the brink of war. With no formal training on how to be Queen, Haven must rise to the occasion with the help of her best friends, and personal guard, or risk losing everyone she has ever loved.
With war to the West, and no escape to the East, the evil tyrant Kadia sets her sights on the six kingdoms. Haven's neighbors are quick to fall under the swords of Kadia's shadow soldiers, leaving a sea of bodies and a clear path to Haven's only home.
As Kadia's obsession with Haven mounts, little time remains, and Haven must make a choice; join together with her fellow Royals, and test her immortality in a final stand against the evil Queen, or flee across the sea to a foreign republic in hopes of salvation. Both choices have a cost. Both plans could go awry. Haven must decide quickly, or she might be the only one left.
I think this might be the first time I'm ahead of the game and I can point you in the direction of my REVIEW! A wonderful epic fantasy and a great debut for a new series, I would definitely recommend it!
Noughts & Crosses (Noughts & Crosses #1)  by Malorie Blackman
Blurb:
Two young people are forced to make a stand in this thought-provoking look at racism and prejudice in an alternate society.
Sephy is a Cross — a member of the dark-skinned ruling class. Callum is a Nought — a "colourless" member of the underclass who were once slaves to the Crosses. The two have been friends since early childhood, but that's as far as it can go. In their world, Noughts and Crosses simply don't mix. Against a background of prejudice and distrust, intensely highlighted by violent terrorist activity, a romance builds between Sephy and Callum — a romance that is to lead both of them into terrible danger. Can they possibly find a way to be together?
I'll be posting my review of this one later today, so keep your eyes peeled 😉 But I will say that I truly enjoyed rereading this novel! It completely broke my heart all over again and more so because I read more into Malorie Blackman's inspiration. The passion with which she discusses discrimination, prejudice and racism is even more poignant with the knowledge.
A dystopian read where the typical black and white dichotomy is flipped on its heads, I heartily recommend that you read this novel and take a deeper look into the ugliness that hatred breeds.
AND…
Into Aether (The Trinity Key Trilogy Book 1): by L.M. Fry
Blurb:
Colorado teen Theodora (Theo) will do anything to find her missing mom, including travel into the hidden and mysterious Victorian subculture of Aether. She takes a ride with airship pirates to a floating island full of strange automatons and even stranger people.
After a century-old feud reignites, she uncovers the alarming truth about her family's past. Finding her mother is more important than ever.
Ooph! Well, I started it and was enjoying it, but then romantic interests entered and the story become one contrived jumble complete with a rather annoying protagonist. There are a lot of underlying elements that caught my attention and I just wish that there had been more substance in the main character and plot to support the impressive intricacies. The end picked up a bit, laying some intrigue for future installments, but I don't know if it will be enough to tempt me to try the sequel. I had really wanted to enjoy it too ;P My review should be up some time this week.
WHAT I KNOW I'M READING NEXT
The Fourth Piece (Order's Last Play #1) by E. Ardell
Blurb:
Admitting what you are will end everything you know. Embracing who you are will start a war…
Life is great when you're good-looking and popular…so long as no one knows you're a vulatto. Being half-alien gets you labeled "loser" quicker than being a full vader. So it's a good thing Devon, Lyle, and Lawrence can easily pass for human—until the night of the party. Nothing kills a good time faster than three brothers sharing a psychic vision of a fourth brother who's off-world and going to die unless they do something. But when your brother's emergency happens off-planet, calling 9-1-1 really isn't an option.
In their attempt to save a brother they barely remember, Devon, Lyle and Lawrence expose themselves to mortal danger and inherit a destiny that killed the last four guys cursed with it. In 2022, there are humans and aliens, heroes and monsters, choices and prophecies—and four brothers with the power to choose what's left when the gods decide they're through playing games.
This is another NetGalley pick. It's different from what I'm used to flipping through, but I've been looking for sibling stories lately and I figured this might be worth a shot. So here's to chances and hoping it proves better than the last 😉
Depending how this one goes, I might stay off NetGalley for a little.
A Wind in the Door (Time Quintet #2) by Madeleine L'Engle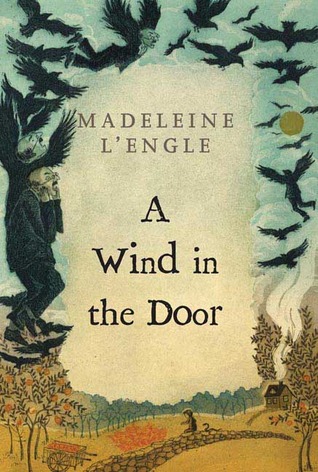 Blurb:
Every time a star goes out, another Echthros has won a battle.
Just before Meg Murry's little brother, Charles Wallace, falls deathly ill, he sees dragons in the vegetable garden. The dragons turn out to be Proginoskes, a cherubin composed of wings and eyes, wind and flame. It is up to Meg and Proginoskes, along with Meg's friend Calvin, to save Charles Wallace's life. To do so, they must travel deep within Charles Wallace to attempt to defeat the Echthroi – those who hate – and restore brilliant harmony and joy to the rhythm of creation, the song of the universe.
After falling in love with the first book, I can hardly be blamed for wanting to pick up the next one, now can I?
---
How was your week? Let me know what you've been reading or are reading or will be reading in the comments. Or share your WWW Wednesday link and I'll take a little tour of your books!

May inspiration flow like ink upon your quill,
Faith