Hello everyone 🙂
Hopefully this won't be my only post today; I have a few reviews to start getting up (three more will get me caught up….)
DISCLAIMER: Minute spoilers might follow, but not really….
---
 Inferno (Robert Langdon #4) by Dan Brown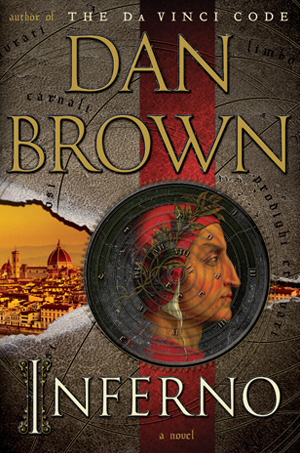 Blurb
In the heart of Italy, Harvard professor of symbology Robert Langdon is drawn into a harrowing world centered on one of history's most enduring and mysterious literary masterpieces . . . Dante's Inferno.
Against this backdrop, Langdon battles a chilling adversary and grapples with an ingenious riddle that pulls him into a landscape of classic art, secret passageways, and futuristic science. Drawing from Dante's dark epic poem, Langdon races to find answers and decide whom to trust . . . before the world is irrevocably altered.
A potentially sizzling read ultimately fizzles out!
I think that sums it up rather nicely. Dan Brown has always been an author that I have found to produce entertaining reads. Diverting novels that are meant to form an escape into a fast-paced world of intrigue, chases, and secrets hidden within cultural & intellectual cornerstones.
And Inferno begins with the promise of a similar adventure. Robert Langdon wakes up in Florence with no memory of the last few days and learns that someone is trying to kill him. From Chapter One he is thrown into the fray, forced to flee with the aid of Dr. Sienna Brooks.
Slowly, he realizes that he was brought in to help prevent some massive global catastrophe (what else is new?) and that it is somehow related to Dante's Inferno (Book 1 of the Divine Comedy). With Sienna's aid, he slowly pieces together the fragments of his broken memory, every moment fraught with conflict and the potential of death as they draw closer to the terrifying truth…
And then suddenly, none of that that really matters. I can't say anything without the risk of spoiling, but essentially a terrible twist turns the plot on its head at a rather 360º angle! And all that conflict, all that build-up, all that potential just POOF! vanishes in a thick cloud of stifling smoke. And we, the reader, are left feeling deserted and toyed with.
Reaching the denouement, I honestly felt as if Dan Brown was being pressured by larger powers to publish his book and just threw down an ending. And it's disappointing, not in the way one is disappointed by a beloved author or series, but just letdown because a good book should at least entertain and satisfy. And this began with the hope for both and, alas, did not deliver.
That's not even going into the ways in which there's really no character development for our protagonist Robert Langdon. Sienna Brooks is the most fascinating character and even her ending falls flat.
Definitely my least favourite of Brown's books. Sam at Taking on a World of Words mentioned that she thinks they might change the ending for the upcoming film. I think she might be right. I feel as though a similar thing was done in Angels & Demons (if anyone can confirm, that would be wonderful)!
If you're looking for a great book, you might want to skip this one. Even a fast-paced beginning and intriguing plot is not enough to make up for the rushed ending. Any other of Dan Brown's novels would be better. He is a good writer. This just isn't his best work.
RATING:
---
May inspiration flow like ink upon your quill,
Faith