And another greeting on this Tuesday!
I told you there would be another review ;P Depending on time, there might even be a third today….
No, I wouldn't do that. I don't want you to feel inundated. Three posts in one day seems like too much….
DISCLAIMER: Little to no spoilers.
---
Wrinkle in Time (Time Quintet #1) by Madeleine L'Engle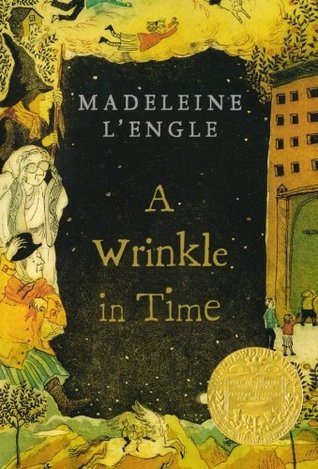 Blurb
It was a dark and stormy night; Meg Murry, her small brother Charles Wallace, and her mother had come down to the kitchen for a midnight snack when they were upset by the arrival of a most disturbing stranger.
"Wild nights are my glory," the unearthly stranger told them. "I just got caught in a downdraft and blown off course. Let me be on my way. Speaking of way, by the way, there is such a thing as a tesseract".
Meg's father had been experimenting with this fifth dimension of time travel when he mysteriously disappeared. Now the time has come for Meg, her friend Calvin, and Charles Wallace to rescue him. But can they outwit the forces of evil they will encounter on their heart-stopping journey through space?
A childhood classic. I am ashamed to admit that this was my first read through. I am far more pleased to state that it was also a beautiful book that I lost myself in and I was sorely dejected when I had to leave it.
It was a dark and stormy night.
And so the story begins, with one of the most recognizable examples of purple prose. And yet there is no reason to chastize Ms. L'Engle for her decision to do it. Because  nothing else about the novel feels cliched or trite. Rather, this beginning sets the stage for a rather profound story that delves into the nature of social conformity.
Much like another famous Meg in children's literature (that would be Meggie from Cornelia Funke's Inkheart), L'Engle's protagonist is a delightful narrator who steals the heart of her reader. From the start, we are introduced to a young girl full of self-doubt. She sees herself as plain and dumb. And yet she is also full of love for her family, especially her mother, her missing father and her most precocious brother, Charles Wallace. Meg is one of those heroines you feel drawn to because she is as insecure as you. She knows that other people are special, but she doesn't see the quality in herself. And it is something that challenges her throughout the narrative, creating a compelling character arc that is meaningful and inspiring.
Meg's life is turned around by the appearance of the three witches–er, umm, I mean the three ladies: Mrs. Whatsit, Mrs. Who and Mrs. Which. New neighbours, they seek out the Murry siblings and their new friend, Calvin and whisk them off on an adventure, one whose ultimate goal is the salvation of the world. These secondary characters lend strength to the plot, the three ladies becoming archetypal guardian figures guiding the three children on a simultaneous journey towards self-discovery.
Inspired by Christian themes, L'Engle parallels good and evil with light and dark. Thematically, the novel excels at conveying larger messages concerning the real world and the darker side of life that we often try to conceal from youth but ultimately cannot be avoided. It is, in some ways, very reminiscent of C.S. Lewis' Chronicles of Narnia and is largely its equal.
A whimsical and magical journey, A Wrinkle in Time is a classic novel for a reason with endearing characters, a captivating plot. Whether a child or an adult, it is something to be delighted in.
RATING:
---
What children's book did you only read later in life that inspired you or changed your life? Let's talk about it in the comments.
May inspiration flow like ink upon your quill,
Faith