Happy Saturday everyone!
And Happy Belated Canada Day!!
I have a review to share with you today. With any luck, it won't be the only one. But, I suppose we'll see 😉
This is the review to the sequel of Infernal Ties which was released yesterday! If you want to check out my review for it, look no further: REVIEW!
And don't worry about spoilers if you haven't read the first one. Infernal Bonds is the first full novel in the Infernal Hunt series. Readers can start with either Infernal Ties or Infernal Bonds.
---
Infernal Bonds (Infernal Hunt #2)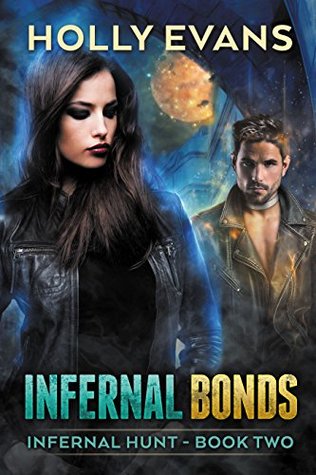 Not only is it a blood moon, but there's a rare celestial alignment that means the veils between the worlds are much more fragile than usual. That allows chaos to reign over the city for one night. Shades play pranks on tourists, redcaps take advantage and run wild, and two sinfully sexy hellhounds slip through.
The redcaps are easily wrangled, the shades are mildly amusing, but the hellhounds are another thing entirely. They evade capture and remain in the city once the moon sets. Two hounds, with two entirely different agendas. One wants freedom. The other wants to bring about Hell on Earth. And he has help.
Where to begin??
Infernal Bonds works as a standalone from Infernal Ties, though I would not recommend skipping over the novella because it's such a wonderful adventure that introduces Evie's awesomeness!
Now, Infernal Bonds is an urban fantasy that follows hunter twins: Evie and Quin Hawke as they deal with hellhounds, hellmouths, and infernal beings in general. With a great cast of secondary characters, Evie strives to protect her beloved city of Prague from the evil that would tear it asunder.
A thrilling adventure through the streets of Prague, Infernal Bonds is proof that Holly is a brilliant storycrafter. Through her words, she gifts us with a gripping read complete with an intriguing plot, lots of fast-paced action, exciting fight scenes and an eclectic cast of characters.
Evie is the heart of the story. She is our narrator and her voice is clear and engaging. In just a few pages, she is introduced as a fierce fighter and a caring sibling. Having already discovered this in Infernal Ties it was great to jump back into the action with her, to become lost in her world. And what a world it is!
As Evie stalks the streets, its protector, she pulls us into the scene. One of Holly's strengths is her ability to bring the city of Prague to life. These vivid portraits of the setting reveal a deep passion for the city and as Evie communicates her love for it, Holly's voice echoes it in time.
As an urban fantasy, the novel brings in a myriad of characters and creatures. Among them are Evie's allies, enemies and ambiguous hellhounds. Quin, Kadrix and Elise all make repeat appearances from book one. The promise of these great characters introduced in the too-short Infernal Ties is fulfilled marvelously as they grow within the pages of Infernal Bonds. They really are such a remarkable bunch, possessing both virtues and flaws.
The newest member of the cast is Lysander, a hellhound with a certain connection to Evie. Without spoiling, he injects himself rather forcefully into Evie's life, creating problems and opening her to new dangers and perspective.
One of the highlights for me was the lack of any forced romantic relations. There is nothing trite or stereotypical to be found in these pages. The subplots don't feel wasted, but enhance the main thread and central conflict. Holly's voice is fresh and something to praise!
A final word on this wonderful book is that it concludes with satisfaction the plot, while leaving open so many possibilities for the future. There's so much more of Evie's world to be explored and I cannot wait for the next installment in this captivating series!
Urban fantasy readers will devour it. Even if you're not one for the genre, this is a plot that's easily delighted in, led by a strong female protagonist and supported by a cast of characters you'll want to spend time with beyond the pages of the book! 
RATING

(in case you didn't guess)

:
---
Ready to delve into Holly's world?
Purchase Infernal Ties here: AMAZON
Pre-Order Infernal Bonds here: AMAZON
Find out more about the amazing Holly here: BLOG!
May inspiration flow like ink upon your quill,
Faith