Happy Wednesday all!
As I'm preparing this post, I'm coming to realize that I haven't read as much as I thought I had. Hmm…
At the same time, I have at least finished one and am in the middle of the books that were on last week's 'What I'm Reading Next'. That should count for something 😉
As always, WWW Wednesday is a meme hosted by the wonderful Sam at Taking on a World of Words. You should check out her blog for sure
If you want to participate, just answer these three questions — I hope you do
What are you currently reading?
What did you recently finish reading?
What do you think you'll read next?
Here's what my week looked like
---
WHAT I AM CURRENTLY READING
Inferno (Robert Langdon #4) by Dan Brown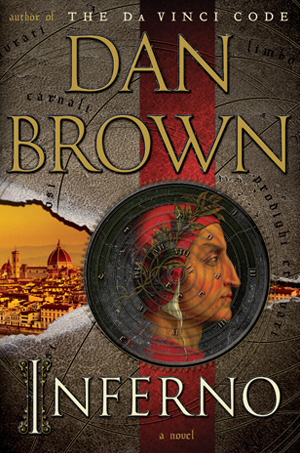 Blurb
In the heart of Italy, Harvard professor of symbology Robert Langdon is drawn into a harrowing world centered on one of history's most enduring and mysterious literary masterpieces . . . Dante's Inferno.
Against this backdrop, Langdon battles a chilling adversary and grapples with an ingenious riddle that pulls him into a landscape of classic art, secret passageways, and futuristic science. Drawing from Dante's dark epic poem, Langdon races to find answers and decide whom to trust . . . before the world is irrevocably altered.
On my What I'm Reading Next list from last WWW Wednesday, I'm 66% of the way through it (according to Goodreads in any case). As expected, it has been perfectly enjoyable so far, nothing outstanding. Though I can't help but cringe at the antagonist's motivation… I should be done tonight, tomorrow night latest. And then it's October until the movie 🙂
WHAT I RECENTLY FINISHED READING
Treasure Island by Robert Louis Stevenson
Blurb:
The most popular pirate story ever written in English, featuring one of literature's most beloved "bad guys," Treasure Island has been happily devoured by several generations of boys—and girls—and grownups. Its unforgettable characters include: young Jim Hawkins, who finds himself owner of a map to Treasure Island, where the fabled pirate booty is buried; honest Captain Smollett, heroic Dr. Livesey, and the good-hearted but obtuse Squire Trelawney, who help Jim on his quest for the treasure; the frightening Blind Pew, double-dealing Israel Hands, and seemingly mad Ben Gunn, buccaneers of varying shades of menace; and, of course, garrulous, affable, ambiguous Long John Silver, who is one moment a friendly, laughing, one-legged sea-cook . . .and the next a dangerous pirate leader!
I have to say that this was a most pleasurable read! I'd forgotten how good of a book it was. Silver is such a fascinating character. And Jim is a great protagonist. A great adventure read. My review should be forthcoming this week, barring any unfortunate setbacks!
Infernal Ties (Infernal Hunt #1) by Holly Evans
Blurb:
The Hawke twins are hunters. They keep the supernal community of Prague in line, and they're good at it. The witches whisper their names when something goes bump in the night, and the lycans tell stories of them to make their cubs behave. When Quin doesn't come home after what should have been a quick rogue-disposal, Evie begins to worry.
Evelyn Hawke is a force to be reckoned with. Nothing and no one will stop her from getting her twin back. She'll do whatever it takes, even dive into the supernal world and work with those she despises to find Quin and dig him out of the very large hole he's got himself into.
Little does she know the far-reaching consequences of her actions.
This novella was a thrill to read. I mentioned last week that I received an ARC from Holly. She has been an inspiration for me in a lot of ways, and I've been itching to delve into her writing. And there are so many great things to be said about it. Holly has a great style that's fast-paced and yet descriptive enough to bring you right into the streets of Prague. Evie is a fierce protagonist and it's impossible not to love her can-do spirit and her protectiveness of her twin Quin! — now that's fun to say 😉
My biggest critique is that it's too short! I didn't want the adventure to end! Fortunately, I won't have long to wait for the next installment!
More to come in a review, but in the meantime I can recommend you do the following:
Pre-order Infernal Ties here (available July 1st): AMAZON
You can also find out more about Holly on her blog or follow her on Twitter!
WHAT I KNOW I'LL READ NEXT

The Mad Ship (Liveship Traders #2) by Robin Hobb
BLURB:
Robin Hobb returns to the sea with Mad Ship, the second book in a projected trilogy set in the same world as her famed Farseer series. Many unresolved questions from Ship of Magic are answered in this tale of sea serpents and dragons; living ships made of wizardwood; the Bingtown Trader families who sail the ships; and their disfigured cousins, the Rain Wild Traders, who build them.
While the first book wasn't my favourite of Hobb's, I'm still looking forward to continuing the tale begun. I'm hoping for more resolution and less of certain characters… At 850 pages I'm not sure when I'll be done this one…
Haven (Chronicles of Warshard #1) by Katherine Bogle
BLURB:
Princess Haven was never meant to be Queen.
Her immortality has saved her time and time again, but when the last of her royal family dies at her feet, she is next in line to rule a nation on the brink of war. With no formal training on how to be Queen, Haven must rise to the occasion with the help of her best friends, and personal guard, or risk losing everyone she has ever loved.
With war to the West, and no escape to the East, the evil tyrant Kadia sets her sights on the six kingdoms. Haven's neighbors are quick to fall under the swords of Kadia's shadow soldiers, leaving a sea of bodies and a clear path to Haven's only home.
As Kadia's obsession with Haven mounts, little time remains, and Haven must make a choice; join together with her fellow Royals, and test her immortality in a final stand against the evil Queen, or flee across the sea to a foreign republic in hopes of salvation. Both choices have a cost. Both plans could go awry. Haven must decide quickly, or she might be the only one left.
Katherine was kind enough to reach out to me and ask if I would review her book for her. I love discovering new authors, especially in the fantasy genre, so I was all too happy to accept 🙂
---
That's it from me for now 🙂
I'll be doing the rounds soon on everyone else's WWW Wednesdays, so be sure to leave a link in the comments or just let me know what your week has looked like in books!
May inspiration flow like ink upon your quill,
Faith