Happy Wednesday all!
It took me until this past Monday to realize that I had misnamed my last post. Sorry about the confusion that might have caused, but you are all wonderful for not calling me out on it 🙂 Not going to make that mistake again.
As always, WWW Wednesday is a meme hosted by the wonderful Sam at Taking on a World of Words. You should check out her blog for sure 🙂
If you want to participate, just answer these three questions — I hope you do 😀
What are you currently reading?
What did you recently finish reading?
What do you think you'll read next?
Here's what my week looked like 🙂
---
WHAT I'M CURRENTLY READING
Treasure Island by Robert Louis Stevenson
Blurb:
The most popular pirate story ever written in English, featuring one of literature's most beloved "bad guys," Treasure Island has been happily devoured by several generations of boys—and girls—and grownups. Its unforgettable characters include: young Jim Hawkins, who finds himself owner of a map to Treasure Island, where the fabled pirate booty is buried; honest Captain Smollett, heroic Dr. Livesey, and the good-hearted but obtuse Squire Trelawney, who help Jim on his quest for the treasure; the frightening Blind Pew, double-dealing Israel Hands, and seemingly mad Ben Gunn, buccaneers of varying shades of menace; and, of course, garrulous, affable, ambiguous Long John Silver, who is one moment a friendly, laughing, one-legged sea-cook . . .and the next a dangerous pirate leader!
Got through only the first four chapters of this last night, but it brings back such memories. Last week I mentioned how Captains Courageous had been first introduced to me through Great Illustrated Classics. The very same can be said for Treasure Island. I am looking forward to delighting in the unabridged version. Can't deny that Long John Silver is part of the inspiration behind Pirate Eyes.
WHAT I RECENTLY FINISHED READING

The Name of the Wind (The Kingkiller Chronicle #1) by Patrick Rothfuss
Blurb
Told in Kvothe's own voice, this is the tale of the magically gifted young man who grows to be the most notorious wizard his world has ever seen.
The intimate narrative of his childhood in a troupe of traveling players, his years spent as a near-feral orphan in a crime-ridden city, his daringly brazen yet successful bid to enter a legendary school of magic, and his life as a fugitive after the murder of a king form a gripping coming-of-age story unrivaled in recent literature.
Not entirely sure how to put into words yet the depth of my love for this novel. Completely mesmerized me. I'm organizing my thoughts for the review. Keep your eyes open for that. In the meantime, please read this book 🙂
Visions of Zarua by Suzanne Rogerson
Blurb:
Two wizards, 350 years apart. Together they must save the realm of Paltria from Zarua's dark past.
An ancient darkness haunts the realm of Paltria.  Apprentice wizard Paddren is plagued by visions of a city on the brink of annihilation. When his master Kalesh dies in mysterious circumstances, the Royal Order of Wizards refuses to investigate.  Helped by his childhood friend, the skilled tracker Varnia, and her lover Leyoch, Paddren vows to find the killer.
The investigation leads Paddren down a sinister path of assassins, secret sects and creatures conjured by blood magic. But he is guided by a connection with a wizard from centuries ago – a wizard whose history holds the key to the horror at the heart of the abandoned city of Zarua. Can Paddren decipher his visions in time to save the Paltrian people from the dark menace of Zarua's past?
I was worried for a moment that I wouldn't have it done, but I managed to finish it last night. Helped that I really couldn't put it down. I have to say that I was extremely impressed by the fantastical elements of this novel and ensnared into the world that Suzanne created. I'm hosting her on my blog June 30th – more about that at a later date. In the meantime, you should visit her blog: HERE!
WHAT I KNOW I'LL READ NEXT

Inferno (Robert Langdon #4) by Dan Brown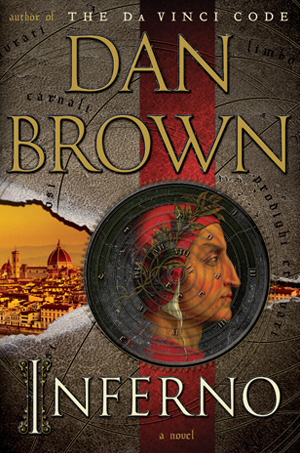 Blurb
In the heart of Italy, Harvard professor of symbology Robert Langdon is drawn into a harrowing world centered on one of history's most enduring and mysterious literary masterpieces . . . Dante's Inferno.
Against this backdrop, Langdon battles a chilling adversary and grapples with an ingenious riddle that pulls him into a landscape of classic art, secret passageways, and futuristic science. Drawing from Dante's dark epic poem, Langdon races to find answers and decide whom to trust . . . before the world is irrevocably altered.
I have an interesting history with Mr. Brown's novels.
I remember reading The Da Vinci Code in high school, when it was garnering a lot of criticism. I went in with a critical mind and enjoyed it well enough without losing my faith.I read Angels and Demons a few years later and enjoyed it even more. The Lost Symbol was given as a gift on my last day of CEGEP and I devoured it in one sitting — I was fascinated by the Masons back then.
I haven't picked up Inferno before now, not because I didn't want to read it, but because there have been so many other books clamouring for my attention, and at the end of the day these books have always best suited my need for a quick adventure than a desire to read the next in the series. But then I heard the movie was coming out with Tom Hanks and Felicity Jones (one of my favourite actresses — cannot wait for Rogue One), so I'm finally going to relent and read!
Infernal Ties (Infernal Hunt #1) by Holly Evans
Blurb:
The Hawke twins are hunters. They keep the supernal community of Prague in line, and they're good at it. The witches whisper their names when something goes bump in the night, and the lycans tell stories of them to make their cubs behave. When Quin doesn't come home after what should have been a quick rogue-disposal, Evie begins to worry.
Evelyn Hawke is a force to be reckoned with. Nothing and no one will stop her from getting her twin back. She'll do whatever it takes, even dive into the supernal world and work with those she despises to find Quin and dig him out of the very large hole he's got himself into.
Little does she know the far-reaching consequences of her actions.
I'm expecting to receive my ARC of Holly's novella soon — most likely before next Wednesday — and I cannot wait to read it! She is an amazing person and writer and you should definitely go and look around her blog and discover her brilliance for yourself. HERE!
---
Well, that's it for me this week 🙂
After last week's less honourable achievements, I feel especially please with where I am (with my writing as well).
Hope this week is going well for you all as well!
Please share your WWW Wednesday links in the comments or just shout out your reading habits this past week. Bibliophiles unite
May inspiration flow like ink upon your quill,
Faith