Happy Monday everyone!
As mentioned in my last update, I'm resurrecting my This Week in Review posts, just to highlight exciting happenstances in my life in terms of writing, entertainment, discoveries. The only aspect I won't be touching on are books because my WWW Wednesday posts cover that adequately 😉
So, here we go!
ON MY BLOG:
Here are all the posts from the last week:
Reviews: O Jerusalem, Eric, The Thirteen Hallows
WWW Wednesday: The Ninth
#WIPjoy
On Twitter this month, Bethany (@simmeringmind) is hosting a celebration of our works-in-progress!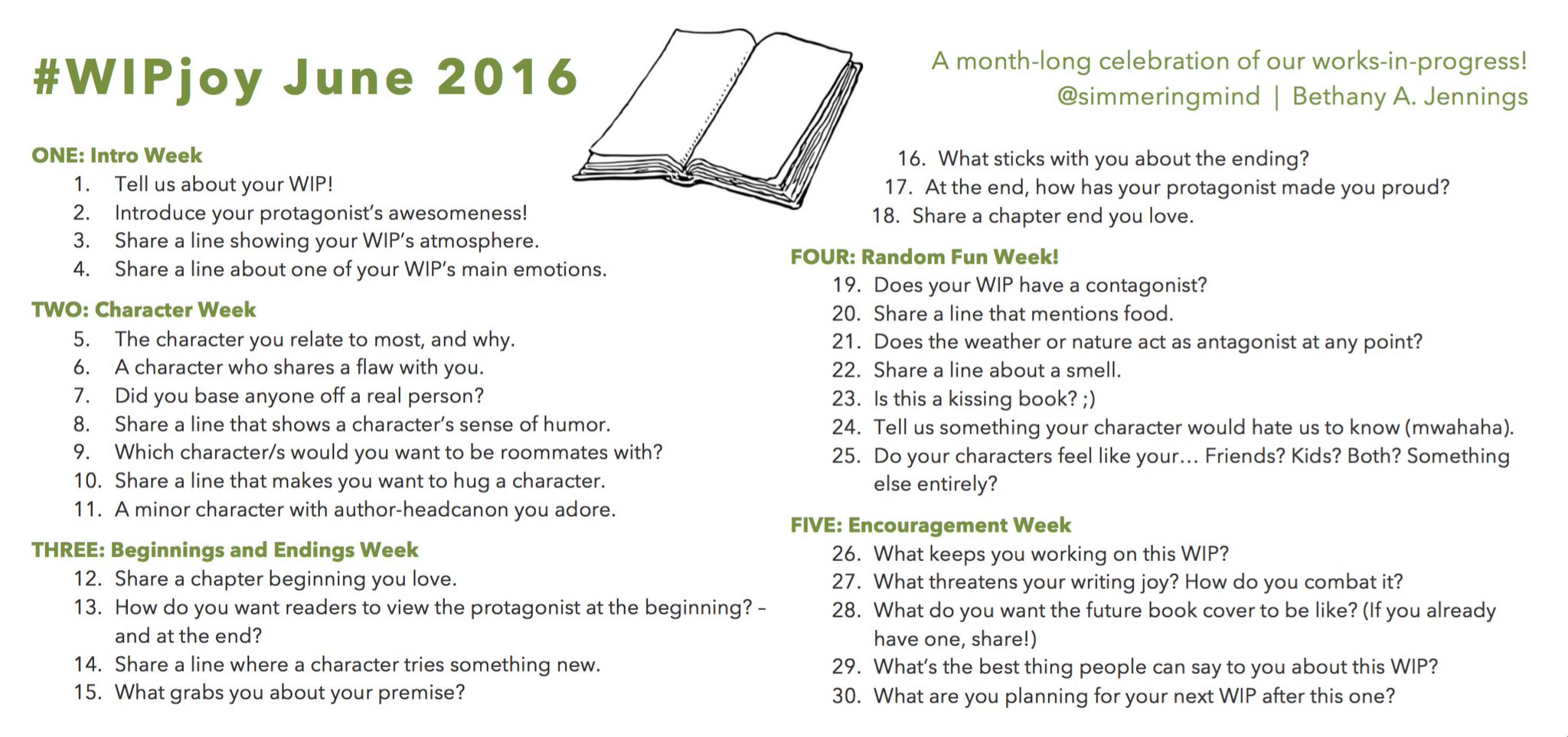 I started off focusing on Pirate Eyes even though my attention has shifted off it this month … more about that soon … Here are the first four:
DAY ONE: Tell us about your WIP!
DAY TWO: Introduce your protagonist's awesomeness!
DAY THREE: Share a line showing your WIP's atmosphere.
DAY FOUR: Share a line about one of your WIP's main emotions.
Writing:
I went through the entire first draft of my screenplay adaptation and came out with a few epiphanies. I have some scenes to add and a few other things to fix, but I'm still confident I can make my end of June deadline.
I've also been inspired recently by a brilliant novel that I'm reading (the Name of the Wind) and I've come to the realization that Pirate Eyes deserves better than what she is right now. She has more potential than I realized and I want her to shine as brightly as she can. And so I'm not going to rush into publishing her.
Instead, I'm going to put my effort into Heritage, my NaNoWriMo novel because I know I can have her ready for the end of the year for publication. In the meanwhile, I'm going to solidify my plan for Pirate Eyes and prepare for a publication next year!
Of course, anything is possible 🙂
---
Have a beautiful rest of the day and a great week!
Anything exciting happen to you in the past week? Share the awesomeness!
May inspiration flow like ink upon your quill,
Faith