Hi everyone,
So I'm nearly caught up on blogs. After today I should be up to date and then tomorrow comes an exciting post so keep your eyes peeled for that.
Since I missed this last week, I thought it would be a great opportunity to do an easy post that's still lots of fun!
If you haven't heard about WWW Wednesday, you can find out more about it here at Taking on a World of Words. Hosted by Sam, it really is a fun way to share books that you're delighting in & discover new reads for the future. Because you can never have enough books!
All you have to do is answer three questions:
What are you currently reading?
What have you recently finished reading?
What do you think you'll read next?
If you want to take part, remember to link back to Sam's original post. Which you can find HERE!!
Now, here's mine:
---
WHAT I'M CURRENTLY READING
I'm currently 27 pages away from the end of Innocence by Dean Koontz. I think it's crazy to conceive of putting down a book so close to the end, but even another 15 minutes last night of reading was impossible for me. I'd already stayed up too late to get where I was and I had to be up this morning at 5:30am. So I got past the climax and put it aside to finish today.
It is by no means a comment on the book itself. I thoroughly enjoyed the novel, though some people will undoubtedly be disappointed by the ending. Even I have to admit that one plot point comes out of nowhere.
Besides that, it is an enriching read. I find that Koontz writes profound literature, even though it falls under the thriller genre. His characters are fascinating creatures and he explores many existential questions in his literature.
His prose is also sumptuous. Honestly, I devoured this book like a good meal & I sorely long to finish it when I get home.
Almost forgot – Here's the blurb:
He lives in solitude beneath the city, an exile from society, which will destroy him if he is ever seen. She dwells in seclusion, a fugitive from enemies who will do her harm if she is ever found. But the bond between them runs deeper than the tragedies that have scarred their lives. Something more than chance—and nothing less than destiny—has brought them together in a world whose hour of reckoning is fast approaching.
WHAT I RECENTLY FINISHED READING

In the past two weeks: a lot!
Mightier than the Sword by Jeffrey Archer
A bomb goes off, but how many passengers on the MV Buckingham have lost their lives? You will find out only if you read the opening chapter of Mightier than the Sword.
Another troubling read. Honestly, Archer is the master of torturing characters: emotionally & physically. There was one point when I nearly put it down because it was too depressing and my head space was not right for it.
And always with the cliffhangers! I am still in love with this series, though. The next book is out, but I'm going to wait until it comes in trade paperback before I leap on it.
I still would recommend this series, but I would warn that you be in a good place in your life before you do because the challenges these characters face is demoralizing!
Two Heads Are Better than One & The More, The Merrier by Anne Mazer:
Just two Abby Hayes books. I needed the light read after Mightier than the Sword. Cute and quirky. Just fun easy reads that make me smile.
North and South by Elizabeth Gaskell:
Elizabeth Gaskell's compassionate, richly dramatic novel features one of the most original and fully-rounded female characters in Victorian fiction, Margaret Hale. It shows how, forced to move from the country to an industrial town, she develops a passionate sense of social justice, and a turbulent relationship with mill-owner John Thornton.
I can't express in words how much this book affected me. I've watched the miniseries so many times, but the book mesmerized me in a different way.
The prose was beautiful. The imagery vivid. Margaret and Thornton leapt from the pages and invaded my life. The way Gaskell describes Thornton's emotions just adds a whole new layer to the relationship that doesn't come across in the miniseries.
There is so much sadness in this book, and yet there is so much goodness in it too.
If you enjoy Austen, you'll love this book.
Finally…
The Siblings by A. Morgan
I mentioned in the last WWW Wednesday that I was honoured to receive an ARC of his novel. Well, I sat down one night and read it all. Because it was simply superb. So well-written, so fast-paced. The characters are well-developed and come to life off the pages. Left me breathless and anxious for the sequel!
I'll be posting a review soon so I won't say more on it right now. Keep your eyes peeled for it.
The official release date is APRIL 12th! So mark your calendars. Now 😉
WHAT I

KNOW

I'LL BE READING NEXT
Because I have the next five books planned out (I'll just pass on two for brevity's sake):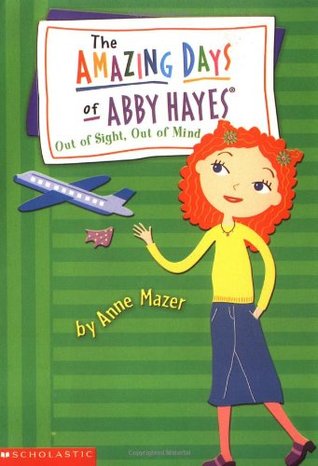 Out of Sight, Out of Mind by Anne Mazer (Abby Hayes #9):
I do not apologize for these fun reads. It's actually becoming research for me at this point, because I'm growing more and more inspired to write a children's book! But more on that another time.
Abby is desolate when her best friend, Jessica, goes away to spend several months with her dad. Abby promises Jessica she'll handle her baby-sitting job, but soon Abby gets fired. Will anything ever go right with Jessica away?
The Merchant of Dreams by Anne Lyle:
Book Two of the Night's Masque series, sequel to The Alchemist of Souls.(to avoid spoilers, here's the blurb for book one)
When Tudor explorers returned from the New World, they brought back a name out of half-forgotten Viking legend: skraylings. Red-sailed ships followed in the explorers' wake, bringing Native American goods–and a skrayling ambassador–to London. But what do these seemingly magical beings really want in Elizabeth I's capital?
Mal Catlyn, a down-at-heel swordsman, is seconded to the ambassador's bodyguard, but assassination attempts are the least of his problems. What he learns about the skraylings and their unholy powers could cost England her new ally–and Mal his soul.
I read the first book in this series a llllloooonnnggg time ago and really enjoyed it. The sequel this one has been sitting on my shelf for a good three years now, I think. I figured it was time to pick it up. It's a steampunk / alternate history book — a genre I love & yet don't read enough of — with so-so reviews that say it pales in comparison to the first, but I'm going to give it a shot.
---
May inspiration flow like ink upon your quill,
Faith